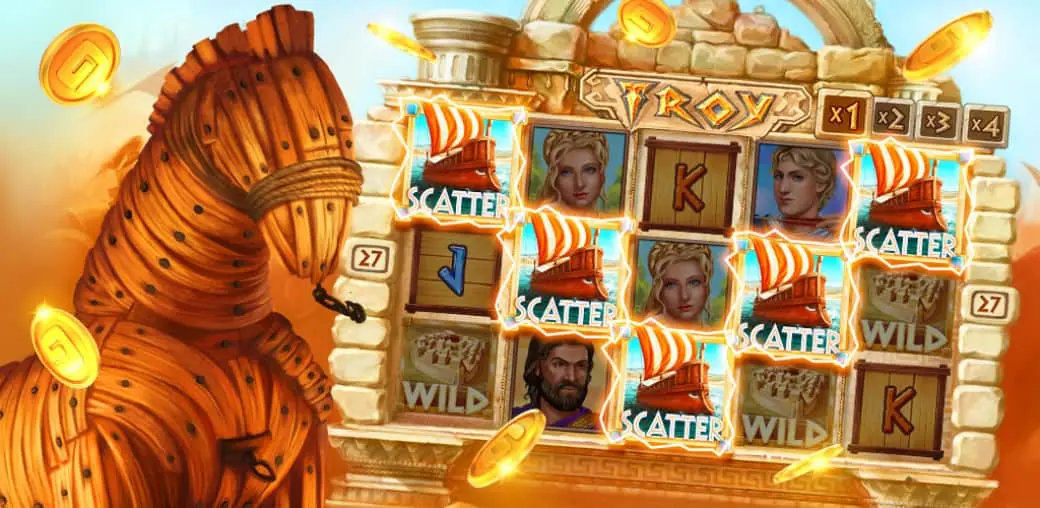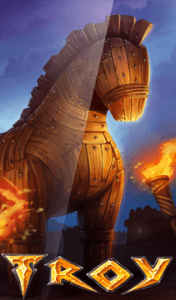 It all started with a woman: Helen, the most beautiful woman in the world, was the wife of Menelaus, King of Sparta, but she was desired by Paris, a prince of Troy, and he abducted her. King Menelaus, accompanied by brave Achilles and the mighty warriors of Greece, vowed to bring her back. Thus began the Trojan War, immortalized in the epic poetry of Homer and in the Troy social casino slots game of Gambino.
The Troy free slot machine game has five reels and 243 Ways to Win. The major figures from the Trojan War – Helen, Paris, Menelaus, and Achilles – appear as dynamic slot machine symbols. The walled city of Troy – the place where it all happened – is a Wild symbol that replaces other symbols, and the Galley – the mode of transportation that got the ancient Greek warriors to the scene of the bloody battles – is a Scatter symbol that awards up to 20 Free Spins.
The Falling Reels feature is the most exciting part of this fantastic free slots game. After every winning spin, a barrage of flaming arrows shatters the winning symbols, which are then replaced by new symbols that can bring new winning combinations. Consecutive wins during the same spin trigger the multiplier that goes up to x2, x3, and x4. That can mean some really big wins and some really big social slots excitement.
Combining ancient Homeric storytelling with modern 21st-century technology, Troy is a fantastic free Vegas slots game at Gambino. Check it out and see!
ICONS PAYTABLE

Achilles. The mightiest of all the Greek warriors, he is nearly invincible – except for his Achilles heel.

Helen. The most beautiful woman in the world, she had the face that launched a thousand ships.

Menelaus. The king of Sparta, he is determined to get his wife back – at any cost.

Paris. A prince of Troy, the abductor of Helen, his lust and his arrogance will cost him – and his city – greatly.

The hollow wooden statue, that the Spartans used to sneak into the Troy. This clever scheme will ultimately decide the outcome of Trojan War.

Troy. Standing proudly on a hill, protected by thick stone walls, overlooking the beaches and plains of Scamander, it is here that the battles of the Trojan War will take place.

War Galley. The most technologically advanced transportation system of the day, they carried the Greek warriors across the Aegean Sea to the battle front of Troy.

The Troy is under siege! For the glory of Sparta! It substitutes for all symbols except Bonus and Scatter, randomly multiplying your bonus wins by X1, X2 or X3!