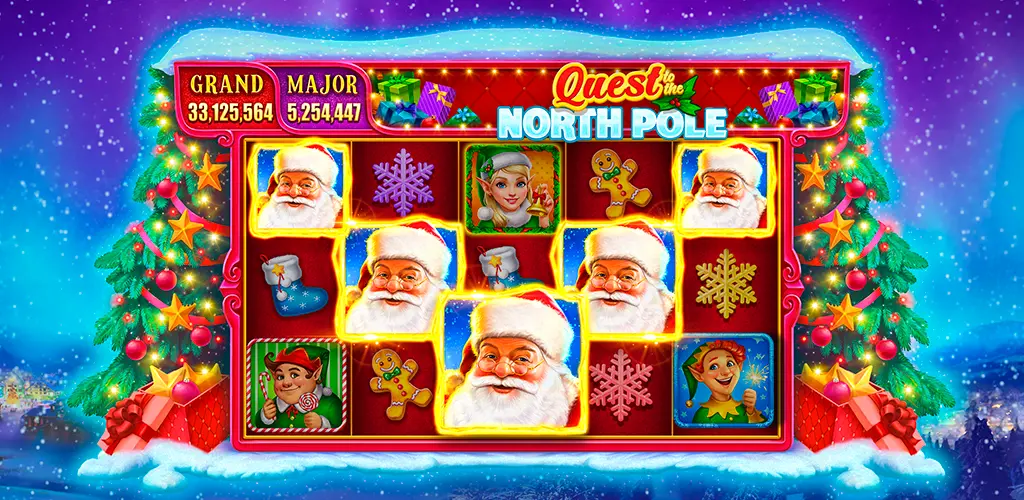 Celebrate Christmas every day when you play slots for free on one of our highest rated holiday slot games: Quest to the North Pole! Games are always more fun at the holidays and this one takes Christmas to the max.
The best way to win on slots is to find one with tons of bonus features and Quest delivers. With 4 types of free spins, jackpots, quests, and a progressive map, Vegas slots online have never been more exciting! 
Free slots games with free spins offer big opportunities to spin up win after wintery win. Here, you can win 4 different types of free spins PLUS bonus free spins from the map.Each of the free spins bonus rounds has its own special feature so it doesn't matter which you hit on this casino slot.
Hit jackpots in a flash in this snowlicious free slot on top of winning tons of prize coins as you complete quests and the map for Wild Spins and hit the big win free slots payouts. 
Not only does this ho-ho-holiday game give you full entertainment value but the graphics are very well suited to keep you in the Christmas zone and in the running for a sweepstakes win. 
If your quest for more interactive slot machines has left you hanging, your search ends here. With all of these bonus features, this game sleighs! Join Gambino Slots free with bonus packages and begin your Quest to the North Pole today!