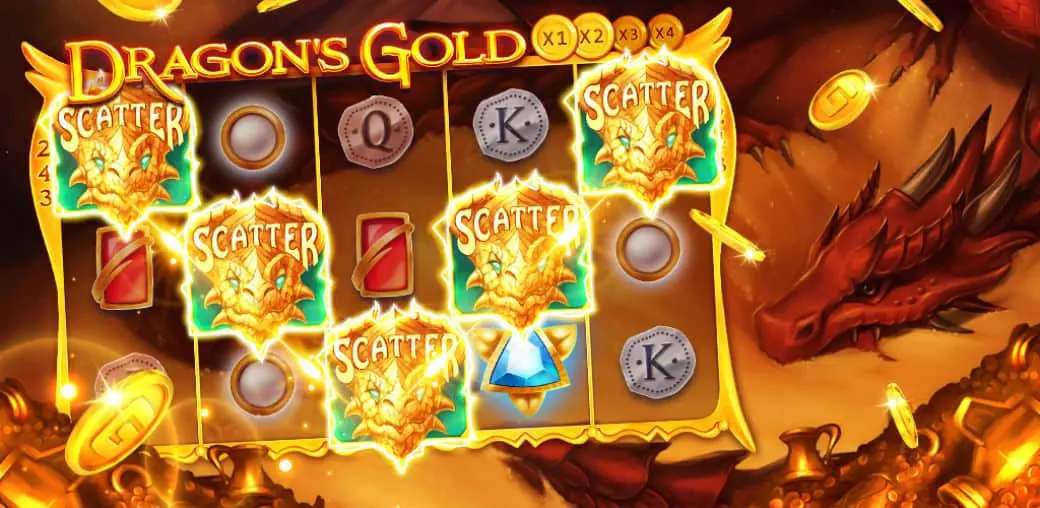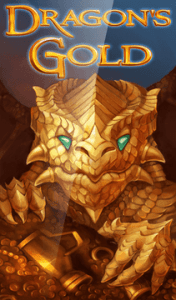 This exciting wheel of fortune game takes place in the hidden cave of the fiery dragon. The dragon's cave is stocked with gold coins, gold chains, gold goblets, even a lake of molten liquid gold. Along with the gold are huge caches of precious jewels: Dragon's Eye, Sapphires, Rubies and Pearls. The fun in playing Dragon's Gold slot games for free comes from searching for gems and spinning for G-Coins while always being careful and watching out for the angry dragon of fiery breath.
Dragon's Gold wheel of fortune slots has 5 reels and 243 Ways to Win. The Dragon Egg is a wild symbol that replaces other symbols to create winning combinations. The Dragon's Head is a scatter symbol that awards you 10 or 15 or even 20 Free Spins. And the chilling Dragon's Gold theme music will keep you on the edge of your seat.
Falling Reels is a unique special feature of this free online social slots game. With Falling Reels, winning symbols explode and fall off the slot machine reels, allowing new symbols to drop down to fill their places and possibly create more winning combinations. Consecutive wins during the same spin increase your winning by a multiplier of up to X4, turning ordinary wins into Big Wins, Mega Wins, and Epic Wins.
It's like playing in the best casinos in Las Vegas. Enjoy the gold, the glitter, and the glamour of Dragon's Gold at Gambino!
ICONS PAYTABLE

Dragon's Eye. This is no simple gem. The Dragon's Eye looks directly into your soul! Only the man whose intentions are pure can look into it without averting his gaze.

Sapphire Brooch. This beautiful ornament was hand crafted millennia ago by High Elves. Its beauty has not diminished with age.

Ruby Signet. Forged by Dwarven craftsmen eons ago, the Ruby Signet bears the Dwarf King's official seal. Dwarves has been searching for this Signet for centuries!

Pearl of Time. This priceless jewel can turn back the rivers of time. It's no wonder it's guarded so zealously by the Dragon.

Dragon Head. It's scary, it's terrifying, it's diabolical, and when it breathes its fiery breath – watch out!

Dragon Egg. It's warm to the touch, it glows in the dark, and it's pulsating with potential dragon vitality.