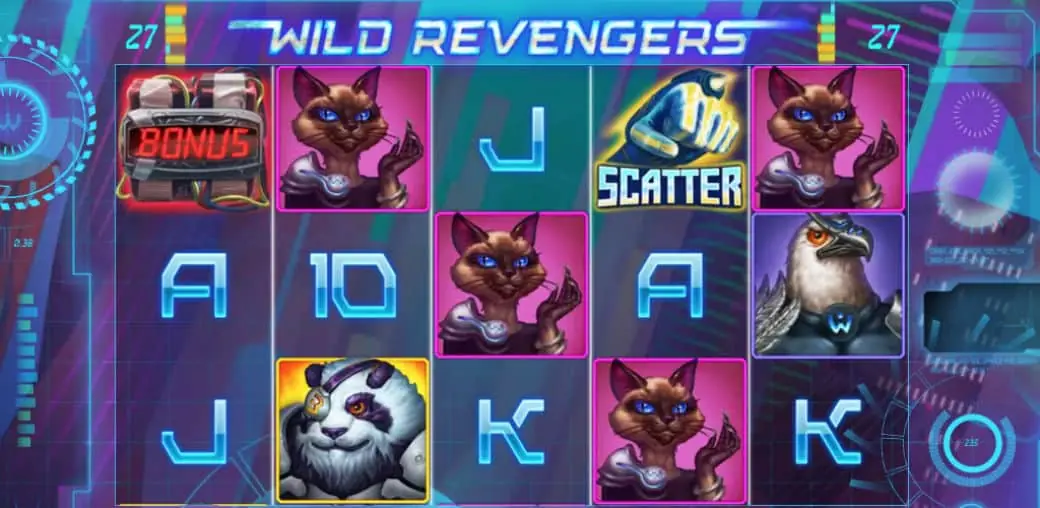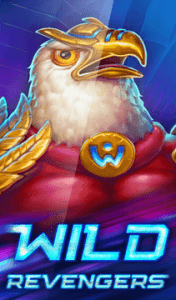 The time for revenge—wild revenge—has arrived! For decades, humans have been performing experiments on helpless and unconsenting animals. Humiliating, degrading, often painful experiments. Meanwhile, the animals have been biding their time—observing, learning, taking meticulous notes, all while secretly organizing the Wild Revengers clandestine strike force. Now they have taken over the lab and developed some super hi-tech weapons of their own to exact wild revenge on their human tormentors. And their base of operations is the Gambino Social Slots Casino.
You can join in the thrill of righteous revenge just by spinning the reels of the Wild Revengers social slots game. This is a free slot machine to play, with five reels and 27 paylines. The background music is bold and suspenseful. The four core members of the Wild Revengers, led by Black Rabbit, appear as social slot machine icons who spring into vengeful animated action when they appear on a winning line. There is a Wild Symbol to help you create more winning slots combinations, a Scatter Symbol that gives you free spins of the reels, and a Bonus Game that awards thousands of bonus G-Coins.
Wild Revengers is an exciting and suspenseful—and somewhat quirky—social casino game. It is the only game in existence that allows you to strike a blow for the dignity of abused lab animals while simultaneously having lots of slots fun and winning lots of Gambino G-Coins. Join the Wild Revengers today!
ICONS PAYTABLE


Black Rabbit. She was the founder of the Wild Revengers and is unchallenged as the military, political, and ideological leader of the group.


Pandamonius. He is the science wizard who developed an arsenal of hi-tech weapons for the Wild Revengers, including the powerful ray-gun eye patch.


Catalina. She is the head of the Wild Revengers Intelligence Bureau, able to infiltrate enemy bastions and eavesdrop surreptitiously while purring contentedly on their laps.


Shmeagle. He is in charge of reconnaissance and surveillance, soaring high and keeping an eagle's eye view on all that goes on in the territories of the human enemy.


Laboratory Tank. This is what we are fighting about. The horrible humans have imprisoned a poor terrified bunny rabbit in a tank of Chemical Z—the nasty substance that transforms rabbits into carrots. The only good thing about it is that it substitutes for other icons to help you win at slots.


Fist of Fury. This Scatter symbol weapon will trigger ten, fifteen, or even twenty Free Spins.
Bonus Bomb. Powerful enough to destroy a single laboratory or an entire enemy research center, it triggers the Wild Revengers Bonus Game where you can blow open the safe and collect many thousands of G-Coins.