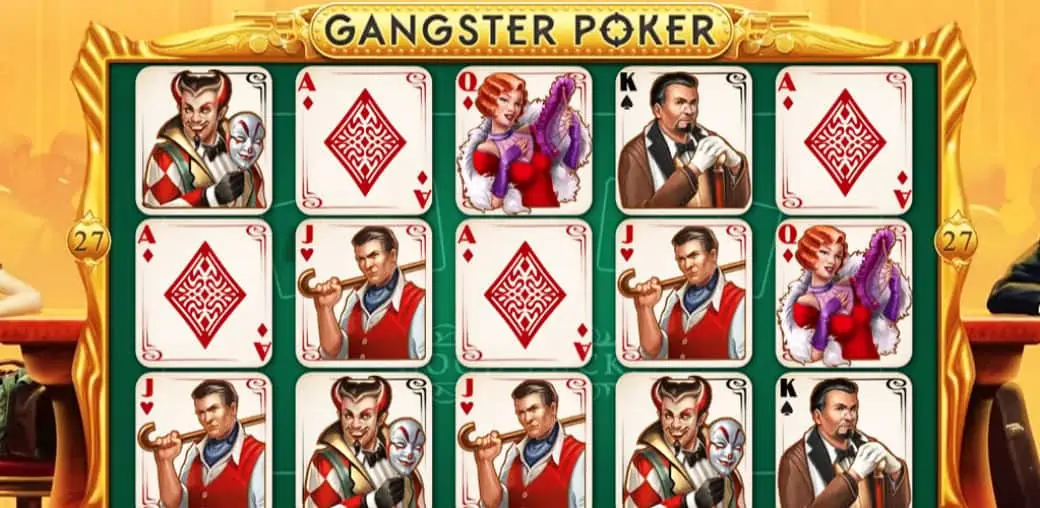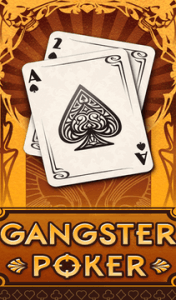 It doesn't get any better than this. First you take two of the best and most popular games in any casino: poker and slot machines. Put them together to create an exciting new hybrid poker-slots game. Then add to the mix an enticing story line of an elegant and sophisticated, but dangerously lethal, crime family, and you've got Gangster Poker, a fantastic free vegas slots game at Gambino.
The symbols on the Gangster Poker free slot machines are the top cards in a poker deck: Joker, Ace, King, Queen, Jack, Ten. The reels do not exactly spin, as in an ordinary slot machine, but appear to be dealt out randomly as cards would be dealt on a poker table, but in the familiar 3×5 slot-machine array. And of course, these are no ordinary playing cards: each card has a pretty face associated with a criminal personality and an unsavory story. That is Gangster Poker social casino slots.
Royal Respins and Joker Free Spins are the exciting special features of Gangster Poker free slots games. Royal Respins kicks in after every winning spin: the winning cards stay right where they are while the remaining cards are removed and re-dealt, creating the possibility of win after win after win on each single spin of the social slot machine. And if you have a winning combination with Jokers, your regular Royal Respins are followed up by ten free spins. Those are Joker Free Spins, and they can result in winning a lot of G-Coins when you play slots for free with the gangsters at Gambino social slots casino.
ICONS PAYTABLE


Joker. He's an enigma, alright. Hiding behind his mask, no one knows where he has been or what he has been up to or how many people he has killed. All we know for sure is that he dispenses the biggest wins in Gangster Poker and tops them off with his patented Joker Free Spins.


Jack. Jack be nimble, Jack be quick, this Jack is a freewheeling playboy devoted to a life of wine, women, and frivolous pleasures until it is his turn to become king.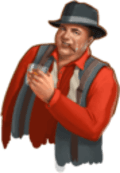 King. The king is always the boss, and anyone who dares to doubt it winds up dead. He cuts an elegant figure in his black bow tie and white gloves, but his steely gaze gives him away.


Queen. Beautiful, glamorous, and charming, she has the king wrapped around her little finger. The queen always gets what she wants.
Ten. This magic number has profoundly influenced every aspect of human destiny from the time Moses received the Ten Commandments right up to the present day digital technology.
Ace. It is always good strategy to have an Ace up your sleeve, especially when you are surrounded by gangsters in the social casino and you want to win some major G-Coins.