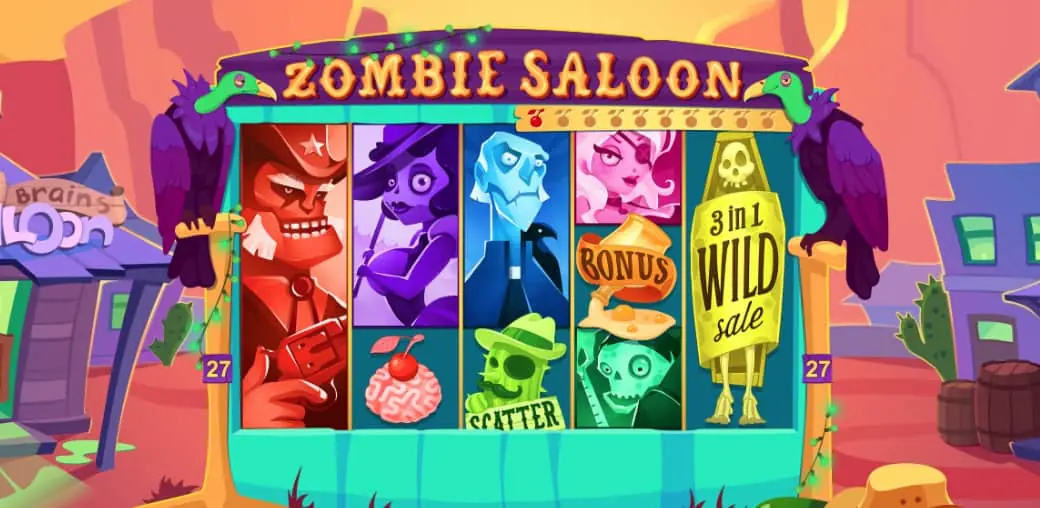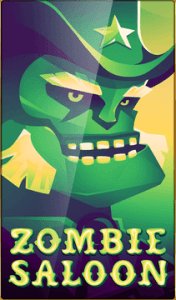 Strange goings-on in the town of Sweet Brains. It seems that a bottle of Rejuvenating Potion fell from the wagon of a mysterious snake oil salesman and seeped into the groundwater and, next thing you know, everyone who was buried in the Boot Hill Graveyard got up from their resting places and rejoined the world of the living. The formerly deceased now cordially invite you to hang out and listen to their amazing stories and join them for some free casino slots in the Zombie Saloon in the heart of downtown Sweet Brains.
The Zombie Saloon free slot machine has five reels and 27 paylines and is populated by images of leading citizens of Sweet Brains who used to be dead and are now undead. The Casket is Wild symbol that nudges up or down to fill the entire reel and create more wins. The anthropomorphized cactus (fancy word for a cactus with a mustache) is a Scatter symbol that can award you ten, fifteen, or twenty Free Spins in the social slots casino. The Rejuvenating Potion bottle is a Bonus symbol that triggers the Bottle Bonus Game. And the Cherried Brains are a special sweet treat in the Zombie Saloon: collect 10 cherries and you hit the Jackpot!
Have fun playing slot games for free with the undead of Zombie Saloon!
ICONS PAYTABLE


Sheriff Sharp. He is a straight-talking sharpshooting lawman who never misses. That turned out to be unfortunate: in a bank robbery gone bad, he didn't miss, but rather shot himself with a ricocheted bullet. His fearsome reputation has really helped him in his strange afterlife, and he is now the acknowledged leader of rejuvenated Sweet Brains township.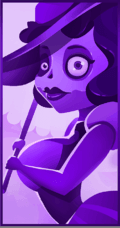 Spicy Sally. One time she mixed too much pepper into her soup and coughed so loudly that Sheriff Sharp thought it was a gunshot and immediately fired back, and that was the end of Sally. Now in her second lifetime, she tries to be always quiet and demure but — Sally being Sally — she can't help but let out the occasional Whoop! of delight.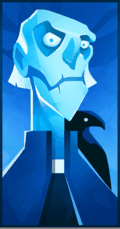 Father Grimm. He always believed in a life after death. He gave it a lot of thought and he delivered many sermons on the subject, but he never expected it to turn out like this, with him as the pastor of an undead flock seeking to discover whether they are now actually in Paradise — or something else.


Deadeye Daisy. Nobody messes with the beautiful and deadly Deadeye Daisy! Ain't no one! The only thing that kills faster than her gun is her looks! Since everyone in Sweet Brains is already technically dead, Daisy put shooting aside and started a dancing career. Well, at least now she is really a girl to die for.


Gravedigger Greg. He took his profession seriously and dug beautiful graves to fit the precise measurements of the client's coffin. But when his own turn came, he never felt comfortable in the shoddy grave that the substitute gravedigger dug for him and he couldn't wait for a chance to get out.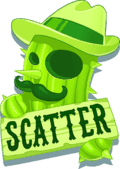 Scatter Cactus. Even cactuses can become zombies if they are bled dry of their delicious juices, especially if it is a mustachioed cactus with an eye patch and a hat. It's an unusual species, found only in Sweet Brains, and it'll welcome you to town with a basket full of Free Spins.


Wild Casket. Some folk just love their caskets too much to ever want to leave them, but that doesn't mean they should miss out on all the fun! There's plenty of room to dance and sing inside this 3-in-1 casket that nudges into place and expands to fill an entire reel of the social slot machine.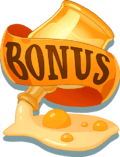 Bonus Potion Bottle. This is the stuff that started the whole zombie invasion of Sweet Brains. The bottle fell off the wagon and broke, and the potion seeped into the coffins buried in Boot Hill Graveyard and gave renewed life to the formerly dead. Just as it can give big G-Coin bonuses to you, the social casino games player.


Jackpot Brain. Zombies love their brains. Roasted, toasted, fried or raw — there is nothing in the world more delicious than a brain with a cherry on top! Collect 10 of them and you win the Zombie Saloon Jackpot!
Poker Cards. There are lots of fun things to do in the Zombie Saloon. If you get tired of throwing darts or swapping tall tales with the undead or playing free slot machines, there is always a good poker game you can join.