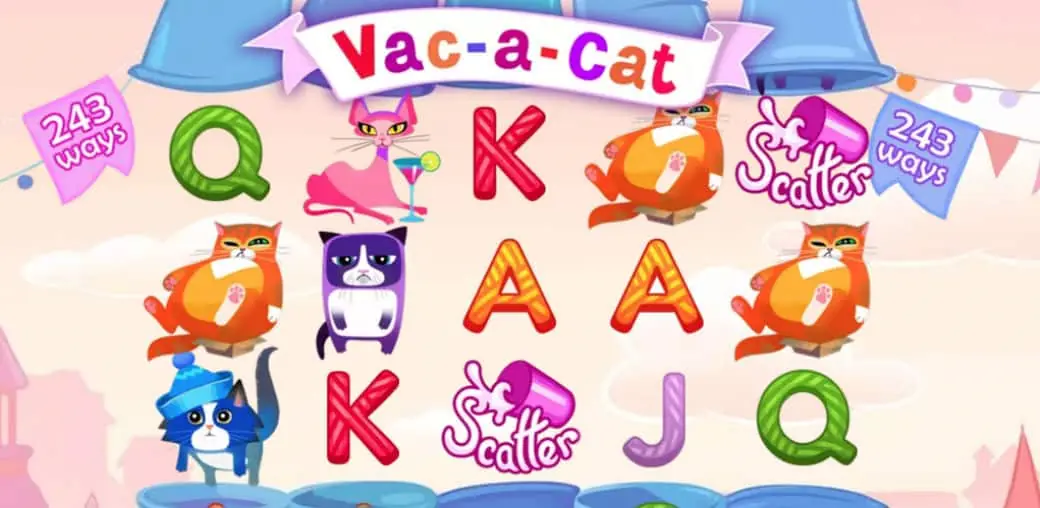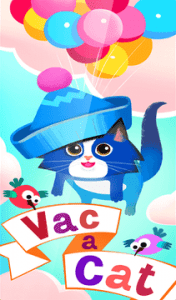 There is only one thing that cats fear more than a ferocious dog, and that's the dreaded Vac-a-Cat — the super-powerful vacuum cleaner, invented by a mean malicious mechanically-inclined mouse, that sucks up cats. There is no escape from the Vac-a-Cat and there is no escaping the silliness and the fun of the Vac-a-Cat free slot machine games at Gambino social slots casino.
The Vac-a-Cat free slots game has 5 reels and 243 ways to win. It features five fluffy cats — each with its own adorable, albeit occasionally mischievous, personality traits – who leap into animated action whenever they appear on a winning slot machine way. The Fish Bowl is a Wild that substitutes for other symbols to produce winning combinations on the social slot machine. The Spilled Milk is a Scatter Symbol that will splatter you with up to 20 fresh wholesome Free Spins. And the Bonus Pillow triggers the fabulous Pillow Bonus Game: pick a lucky pillow and win up to 12 times your total bet in Bonus G-Coins.
You're never too old or too mature to enjoy a little silliness. So indulge yourself! Come play free slots for fun with the cats at Gambino. They'll try to evade the Vac-a-Cat, you'll spin the reels to win lots of G-Coins, and you will all have a rollicking good time!
ICONS PAYTABLE


Chubby. Never one to turn down a nice dinner, a between-meal snack, or a fresh fish anytime, Chubby has put on a few pounds, but not so much that the powerful Vac-a-Cat can't still lift him up and suck him in.


Pinky. A sophisticated lady through-and-through, oozing with charm, always the center of attention, she just has to bat those big beautiful feline eyes of hers to capture the heart of any gentleman tomcat in the vicinity.


Glenda. She can unravel the whole darn ball of yarn and make a fine mess all over, or she can use it constructively to knit a warm and comfy and stylish sweater that any cat would be proud to be seen in. It all depends on her mood.


Blue Bonnet. Scion of a long line of rare blue cats, he wears his blue hat as a crown that proclaims his special status and incidentally provides a handy hideout for his chirping bird friends. But even royal lineage is no defense against the Vac-a-Cat.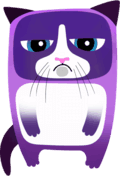 Grouchy Cat. It's always raining on poor Grouchy. In fact, no one can even remember the last time they saw him smile. He's so depressed, he doesn't even care if he gets sucked up by the Vac-a-Cat. Sad!


Wild Fish Bowl. The poor goldfish is as terrified of the cats as the cats are terrified of the Vac-a-Cat, but when he completes a winning line he forgets his fears and literally jumps for joy.


Scatter Milk. No need to cry over the spilled milk: it provides a free tasty treat for the cats and delicious Free Spins for you, the social casino slots player. What could be wrong with that?


Bonus Pillow. It's soft and cozy and oh so inviting to take a mid-afternoon cat nap any time of the day or night. And while you're snoozing you can win many thousands of Bonus G-Coins in the Bonus Pillow Game.
High Poker Cards. Even cats – especially cats facing imminent abduction by the Vac-a-Cat – enjoy passing the time with a good hand of social casino poker. What else could they do? What else would you do?