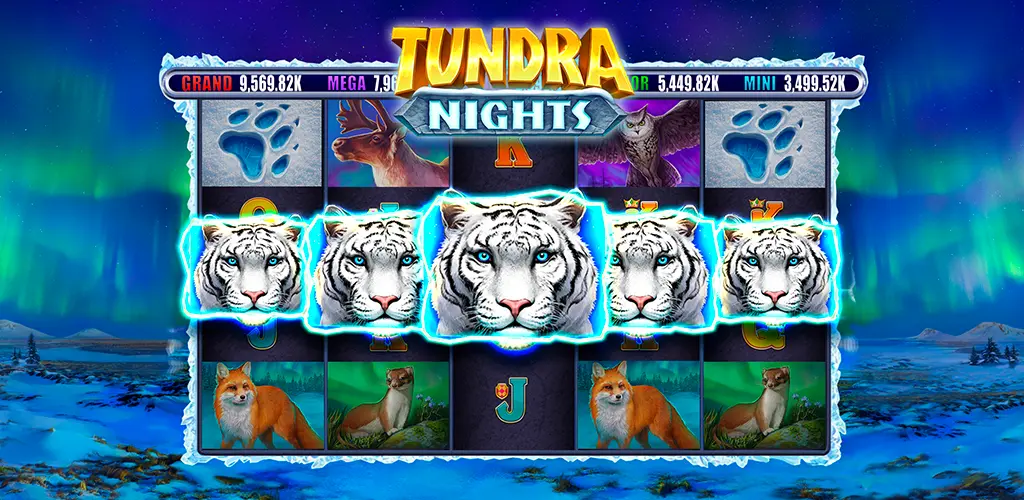 Unique bonus features are always a plus in Vegas slots games and Tundra Nights offers just that! Wrap up warm and grab a hot cuppa for an icy journey in this free slots games with free spins!
Tundra Nights is not like other free slots. With the exclusive Freeze Zone bonuses that are the best way to win on slots! Our exclusive 50 payline slot machine awards up to 25 Icy Spins, coin prizes with upgrades, multipliers and more!
Casino slots always include wild symbols to increase your win potential. Tundra Nights also has wild prize symbols that boost your coin and multiplier prizes in addition to scatters for some cool free spins.
The sweepstakes keep growing with Icy Spins! Win up to 25 free spins and enjoy more prize symbols and Freeze Zone symbols. Enjoy even more when you retrigger Icy Spins.
Online slot games with a niche bring more excitement to your screen. The Freeze Zone bonus feature is always running so when you hit a payline win within the zone, there's a chance it can be upgraded for even bigger wins that include jackpots. Big win free slots games take the player advantage to a new level with multipliers and on Tundra Nights, they're added together when more than one hits for a jackpot in a flash!
One of the biggest reasons our fans play slots for free on Tundra Nights is the graphics which whisk you away on a tundra like adventure filled with beautiful wildlife. You won't want to miss the excitement and the beauty of Tundra Nights so join Gambino Slots free with bonus packages and skate into a freeze zone of epic wins today!