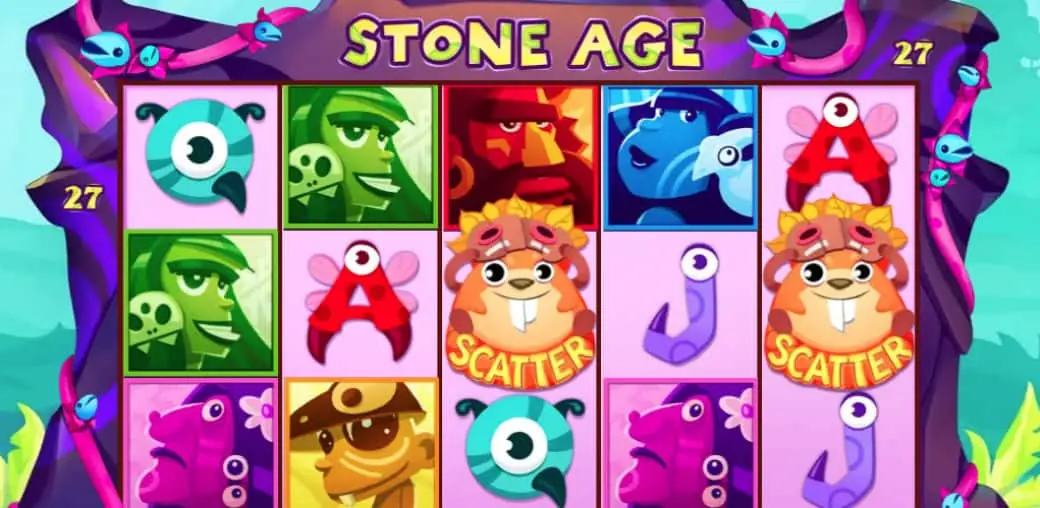 It's time for a history lesson! But not the boring kind, we're going all the way back to the STONE AGE! Hop on our time machine and let's go peek at life in its most primal form! Come play in the past with this 27 lines machine you'll become the King of Caveman in no time! Sit back and enjoy, just make sure not to step on any butterflies, disrupting any timelines!
Nana is always busy looking after the kids of the tribe. Usually the children don't get too deep into the forest, and luckily even if they do, Nana's pet Iguana can help find them!
Scully likes everything unusual and mystic. Time travelers for example. No matter how much she will scream and try to hit you with a club you must make sure she doesn't use your time machine!
Bubu is the youngest addition to the tribe. Oog's never taken him hunting, so he can only dream of the great deeds he will accomplish when he grows up. Until then all Bubu can do is draw inspiring pictures on the cave walls.
Oog is the tribe's chieftain. He likes to hunt, he likes to eat and he really likes his small tribe. What else could a tribe ask for, from their chief? Well, maybe to eat at least a little less and hunt a little more…
The village elder. Chog is the most knowledgeable member of the tribe. She knows which berries can be eaten, the best cave locations, and even why it's a bad idea to poke a sleeping bear! The only thing she still doesn't know, is how to react to time travelers!
It's TIME to go fishing! Catch the fish, feed the hungry tribe and get a huge bonus! The Bonus game will activate when you hit 3 Bonus symbols.
This little critter destroyed the tribe's entire wood stash! He claims he is very sorry and will that he give you up to 20 Free Spins if you manage to catch him!
This bird loves stealing shiny objects, that's why catching her will lead you to hidden treasures of the Stone Age! The Bird nudges up and down to make wins, substituting for all symbols except Bonus and Scatter!