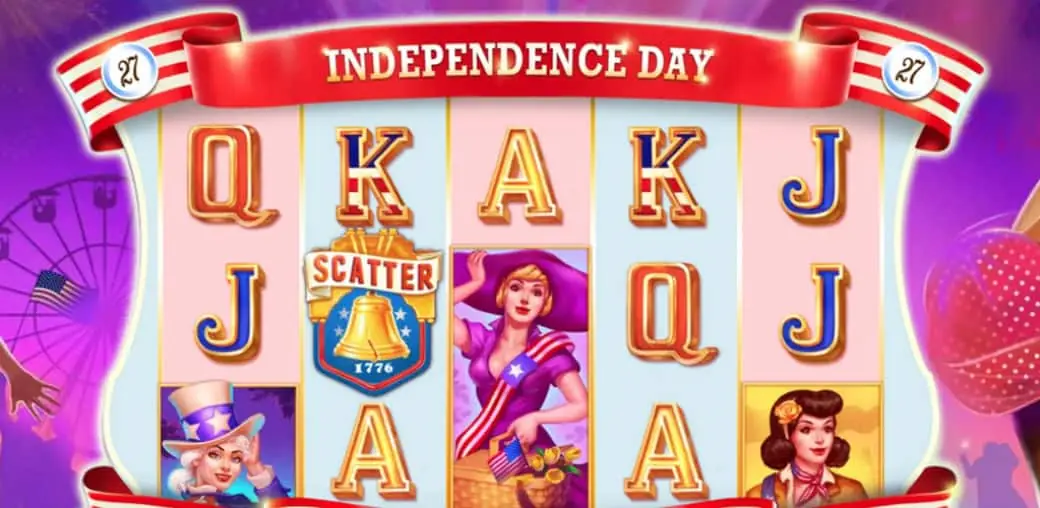 Celebrate the most patriotic holiday with this firework-blazing machine! Join 5 lovely young ladies as they are having fun on America's largest fireworks show. Enjoy the new Freedom Wild, which will replace all symbls on the board and give a cheer to American Eagle!
Jenny seriously prepared for Independence Day, she even sewed her costume herself, so that she may join the parade and be in the center of celebration! Jenny is a natural-born leader and a free spirit!
Mary is the youngest of the lot, but nevertheless she had been tasked with carrying the flag the parade. Mary hopes she won't fail this important task!
Lisa is a flower-girl and today her business is better than ever! She has even more beautiful flowers in her shop, but she decided to leave them out, so as to not outshine her friends too much!
Lara loves fireworks! She wants to share her blazing enjoyment with the whole world, and what better place can there be to do that, then an Independence Day celebration?
Emily is a musician. She would cheer the whole world up with her drum if she could. Well she certainly makes a lot of noise!
The Statue of Liberty is not only a symbol of America, but also a symbol of Freedom. The Freedom Wild appears only during the Free Spins, replacing all symbols on the board.
The iconic symbol of America's independence. It was used to gather meetings since 1752. Now the Liberty Bell is honored by generations of Americans, giving you up to 20 Free Spins.
This badge represents the American spirit, both traditional and progressive. The Wild Eagle replaces all symbols except Scatter!