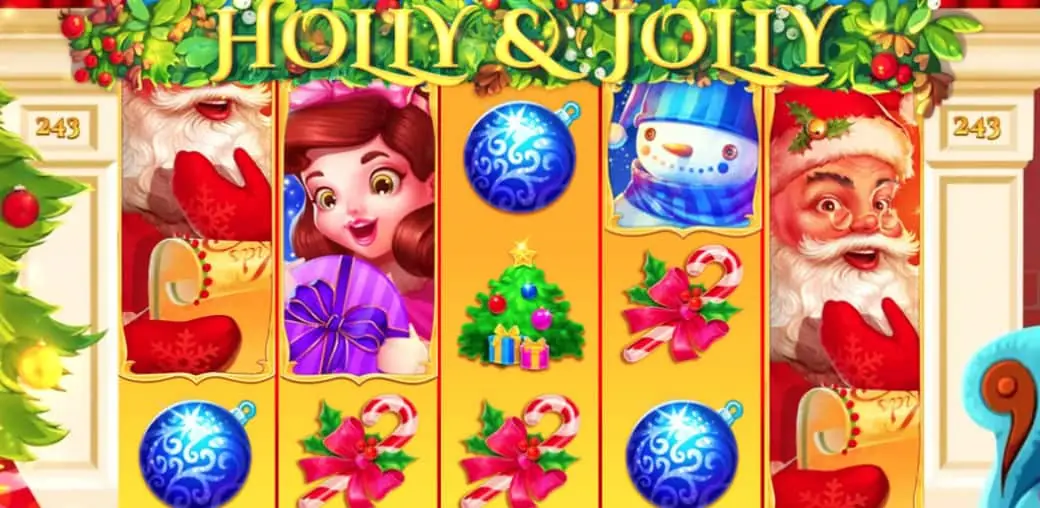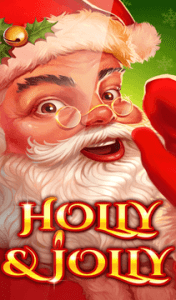 Enjoy the magic of Christmas Eve with the Holly & Jolly free slots game at Gambino. Join the adorable twins Holly and Jolly—they're occasionally naughty, usually nice, but always adorable—as they prepare for the arrival of Santa Claus and his reindeer. Christmas has always been the most wonderful time of the year and now, with the Holly & Jolly social slot machine game, you can enjoy the magic of Christmas all year round.
Holly & Jolly free casino slots has 5 reels, 243 ways to win, and lots of Christmas cheer. It has snowmen and Christmas trees and candy canes. Of course it has Santa Claus and his famous list. It has a Mystery Christmas Gift that magically transforms into a Scatter Gift, a Bonus Gift, a Game Gift, or a Cash Gift. It has a Wild Christmas Star that replaces other symbols to create winning slot machine combinations. And it has a Santa Claus Respin Wild: that's Santa Claus with a brightly wrapped gift, just for you, covering the entire middle reel, replacing all other symbols, and then triggering a re-spin for even more Wild Santa wins.
No need to wait for December! Enjoy Christmas Eve right now—today!—with the Holly & Jolly social slots game at Gambino! Tell them Santa Claus sent you.
ICONS PAYTABLE


Santa Claus. So, who's been naughty and who's been nice? It's all there on Santa's list, and he's checking it twice. We're confident that Holly and Jolly are on the "nice" list, and that means big presents for the twins.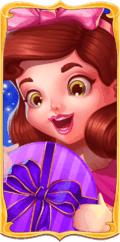 Holly has been good all year and now she is just too excited to go to sleep! She needs to be awake to greet Santa Claus when he arrives with all her wonderful presents. It could be any minute now.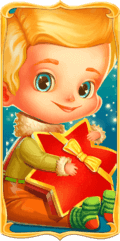 Jolly can be a bit mischievous at times but still, he knows that he has been more nice than naughty and that Santa is sure to bring him presents this Christmas Eve. He is determined to wait up for the magic moment and to welcome Santa with a cookie.


Stanley the Snowman doesn't mind that has to wait outside in the cold, he is just as excited as the rest of the family as he waits for Santa's arrival.


Mom and Dad consider themselves too old and sophisticated to believe in Santa Claus, but they will be astounded when they find out that Santa really exists and will be dropping down their chimney this very night!


The Christmas Tree—complete with a star on top, presents underneath, and baubles on all the branches—is the centerpiece of the family's Christmas celebration.


The sound of Jingle Bells is the surest sign that Santa's sleigh is, indeed, on the way.


These Sparkling Spheres brighten up everyone's spirits as they brighten up the Christmas tree


The Candy Cane: one of the many colorful and delicious treats of Christmas Day.


Opening the Christmas Present is the highlight of Christmas morning, especially when it's a Mystery Gift that could contain Scatter, Bonus, Game, or Cash.


The Wild Christmas Star, perched high atop the tree, radiates peace and good will to the entire world and wild winning combinations to the social slots casino.


Respin Wild: A special, beautifully wrapped gift from Santa himself. It covers the entire third reel as a Wild Symbol, replaces all other symbols to create winning combinations, and then it triggers a Respin of the other four reels to create even more spectacular wild winnings.