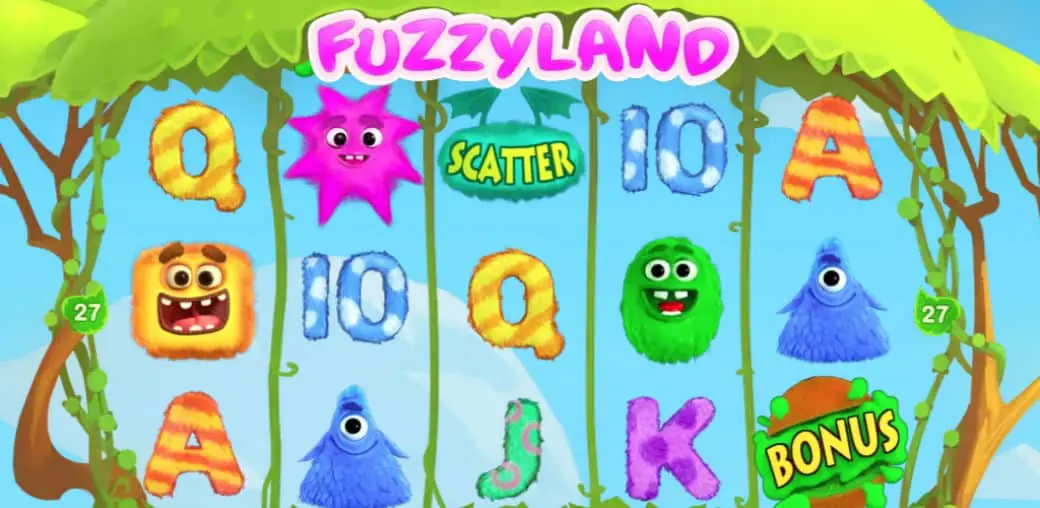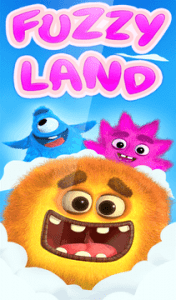 Welcome to Fuzzyland, home of the Fuzzywuzzies! The Fuzzywuzzies are furry, the Fuzzywuzzies are friendly, the Fuzzywuzzies are fun, and most of all the Fuzzywuzzies are fuzzy. So hop on the express train to Fuzzyland, where the Fuzzywuzzies are waiting to help you win fabulous G-Coins in the Fuzzyland free slot games.
The Fuzzywuzzies of Fuzzyland are all different shapes, different sizes, and different colors, and yet they all get along in splendid harmony. A lesson for us all, indeed.
The Fuzzyland social slot machine has 5 reels and 27 paylines and is shaded by a cool canopy of capacious fuzztrees bearing luscious and delicious fuzzfruits. The regular residents of Fuzzyland—that's Fred, Frank, Florence, and Gertrude Fuzzywuzzy—are joined by Scotty the winged fuzzy scatter symbol who fetes you with free spins, Willy the purple fuzzy wild symbol, and the Fuzzfruit bonus symbol that triggers the Fuzzyland Bonus Game where you pick luscious ripe fuzzfruits that split open to reveal your juicy G-Coin bonus prizes.
If it sounds silly, that's OK. Life is serious enough, you are entitled to take a break and enjoy the silliness when you play free slot machine games. So catch that express train to the social slots casino and let's have fun. Next stop—Fuzzyland!
ICONS PAYTABLE


Fred Fuzzywuzzy. He's a big square and he's yellow besides, but that doesn't mean he is not fun to be with. When he gets really excited he lets out a big sneeze that shakes the very foundations of Fuzzyland.


Florence Fuzzywuzzy. She thinks she's a star, and guess what? She is! She is a bright pink star who dances and spins and squeals with stellar delight at her charmed life in Fuzzyland.


Frank Fuzzywuzzy. He is round and green, he carefully minds the gap between his teeth, and he loves to sprinkle Fuzzyland with colorful sparkles of good cheer.


Gertrude Fuzzywuzzy. She is blue; she is triangular; she has one eye. Her aerodynamic design make her perfectly suited to execute the elegant backflips that are as much fun for us to watch as they are for her to do.


Scatter Scotty Fuzzywuzzy. No, he is not an upside-down duck! Those appendages are wings, the magnificent wings that enable Scotty to fly all over Fuzzyland distributing Free Spins to deserving social casino slots players like you.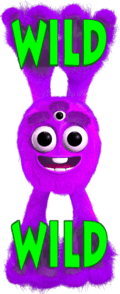 Wild Willy Fuzzywuzzy. He has four big hands for giving big fuzzy hugs to everyone he meets, three eyes for observing all that goes on in Fuzzyland, and a big heart that enables him to create winning slots paylines by substituting for other slot machine icons.


Bonus Fuzzfruit. Have you never tasted a Fuzzfruit? They are out of this world: juicy and delicious and loaded with vitamins and bursting to trigger the Fuzzyland Bonus Game where you pick Fuzzfruits from the Fuzztree and harvest loads of luscious G-Coins.