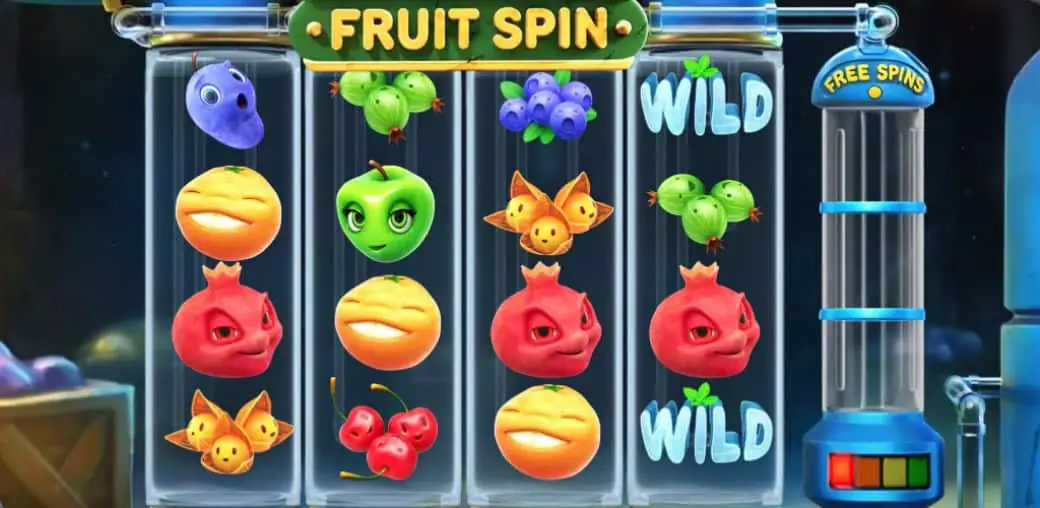 Do you like fresh juice? Who doesn't right? But making it is not only fun and challenging, but also very profitable! If only those pesky fruits would stop trying to pull a fast one on you! So show them who's boss in this Collapsing Win Combo Slot Machine! Spin to catch fruits and pull them into the machine, when you gathered enough, the mini-game will appear, and, if you lucky it will bring you up to 12 Free Spins! Look! So don't wait too long to play – the fruits are on the run already!
It's not easy being green. No juice is complete without a little bitter apple.
He works part-time as a smiley in the internet. Make your juice even zestier with this little guy!
Oh my! Plum is so excited about the idea of becoming juice that he is almost screaming with impatience. Don't let him wait for too long!
The Strawberry King thinks, that he is too royal to go into the juice machine with common berries! Show the Strawberry King, that you are not playing around!
Blueberries love to sing. Even if they are turned to juice, their song can still be heared from the machine.
The most cheerful fruit in the basket! They are not really trying to escape from the juicer, but they are cheering for the others who are!
Gooseberry is so easily scared! Even the thought about the juice machine gives it goosebumps! It won't be easy to catch, but it really improves the juice.
Goldenberry likes to play hide-and-seek. He doesn't much care if you like it or not, so you shouldn't care much whether he wants to go into a juice machine after being found.
It adds freshness and a little bit of surprise into you fruit mix. It will replace all symbols on the board!