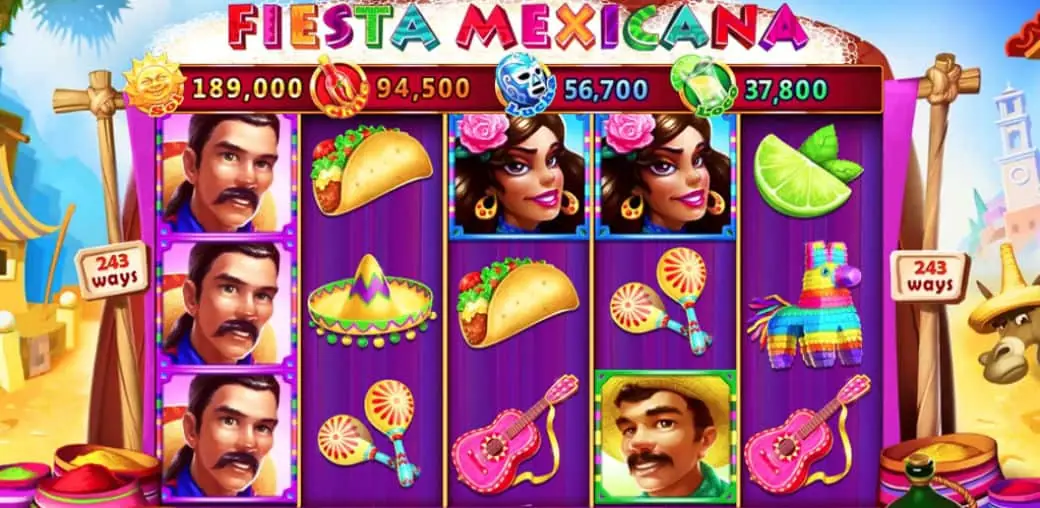 All work and no play makes you tired! So how about a little fiesta – celebration to make you forget all your troubles and just dance to your heart concern. With this slot machine, you will meet all sorts of colorful characters – the famous dancer Pablo, the beautiful Maria and mysterious Yolanda await you in this wonderful adventure. Featuring huge Jackpot, unique loaded reels mechanic and tempting Mega Wins – Fiesta Mexicana is the holiday that is always with you!
Maria is a delicate flower of Mexico; who's beauty is unmatched! But this doesn't mean she doesn't know how to have a good time! When she sings, all of Mexico sing with her!
Everybody knows Sanchez – he brews the best tequila in town! And once a year, on Fiesta Mexicana he gives his beverage to the best singer and to the best dancer in Mexico. Who will win the prize this year, I wonder…
Yolanda came to town from far away, but quickly fell in love with its bustling streets and cheerful people. Today she is very busy, making sure that everything is ready for Fiesta Mexicana. Some people wonder – does she ever sleep at all?
Most of the year Fernando is just a humble trader, travelling the roads of Mexico with his trusted donkey, but once a year he gives his weary legs a rest, sings and celebrates with his friends on the Fiesta Mexicana.
The famous dancer, who brings joy to the hearts of the people of Mexico! With him every day is a holiday and every street is a dance stage. Join Pablo and his friends and burn the night away.
Spicy Scatter – too spicy to eat, too tasty to pass by! Spicy Scatter will appear anywhere on the reels during the Free Spins and will trigger additional Free Spins!
Why should guitar and castanets have all the fun? Become the soul of Fiesta Mexicana with Wild Stacked Free Spins Accordion! It appears during the Free Spins and will trigger even more Free Spins for you!
Wild Cactus may be thorny, but it's juice is the main ingredient of Tequila! Cactus Wild replaces all symbols except for Scatters, Hitting Cactus Wilds and may trigger a Jackpot game.
Even more Cactus – even more tequila! Cactus WildX2 replaces all symbols except for Bonus and Scatters. A winning combination containing a Cactus WildX2 will be multiplied by 2! Hitting a Cactus WildX2 may trigger a Jackpot game.