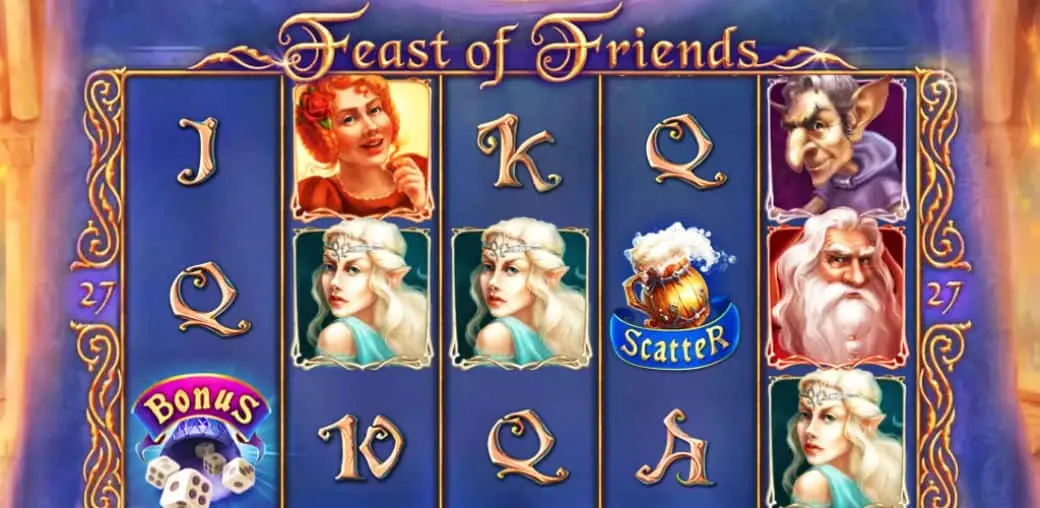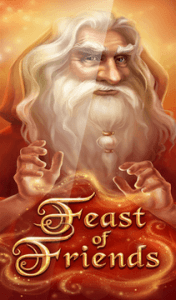 Once a year the magical folk of the Evergreen Forest gather, far from the prying eyes of ordinary humans, to celebrate the Summer Solstice! So come and party with elves and dwarves and gnomes and druids and goblins. Play the Feast of Friends free slots games and you too will be able to feast upon the sumptuous foods, quench your thirst with intoxicating Goblin Ales, dance the festive folk dance, and play free casino games with some new and very unusual friends whom you will surely never forget.
The Feast of Friends free slot machine has 5 reels and 27 paylines. The scatter symbol is a nice big frosty mug of Goblin Ale: three or more of them scattered anywhere on the social slot machine reels will pay off with ten, fifteen, or twenty Free Spins. A nice succulent piece of Meat is a wild symbol: it replaces other symbols to create winning paylines. And the Lute is a special wild: during the Free Spins round only, it turns adjacent high symbols wild.
The Feast of Friends Bonus Game is triggered by the bonus symbol of Dice tumbling out of cup. In the Bonus Game, you pick a cup and reveal the prize hidden within; you may then choose to keep your prize or to go for more on a double-or-nothing gamble. So enjoy the fabulous fun with Feast of Friends at Gambino, home of the best social slots and lots of utterly enchanting merriment.
ICONS PAYTABLE


Ferus, the Druid Wizard. The wise old Druid lives deep within the Evergreen forest. Though born a human, his knowledge and magical powers have ensured him an exalted spot among the spirits. The magic of Ferus will protect all guests from harm, so sing, dance and feast, for tonight nothing can harm you!


Nedra, the Elf Princess. When human beings first approached the Evergreen Forest, Princess Nedra was already there to greet them. They forged a pact, stating that no human may enter the Forest, with one exception: once a year, on the day of the summer solstice, one chosen mortal may enter the forest to feast. This year you were chosen!


Biljin, the Gnome King. Biljin has traveled a long way to get to the Evergreen forest from his home in the Fortress of Gnomerrah deep within the earth. Biljin loves two things in life above all else: his ale and his beard. Just be sure to compliment his beard or he'll hold a grudge all the way till next year!


Bertha, the Dwarf Queen. Bertha has ventured many a mile to be here tonight. Female dwarfs are rarely seen, but this queen is an exception, she is a flamboyant and cheerful ruler. Like most dwarfs she is an artisan miner and crafter. With any luck she will craft you a unique trinket!


Znabos, the Goblin Sorcerer. Like any self-respecting goblin, Znabos spends his time inventing new pranks and tricks to play on unsuspecting victims. Once a year he steps away from the mischief to celebrate the Solstice! But watch out, for even though Ferus's magic protects you from serious harm, Znabos will never stop trying!
The Poker Cards. The poker tournament is one of the highlights of the party and, if you can tear yourself away from the free slots machines, you are cordially invited to join.


Ale. Brought from Znabos's very own private reserves. This magical drink, brewed in the deepest caves and stored in barrels of living wood, will make your head spin and your legs dance! Don't drink too much or you'll think this was all a dream!


Meat. Scrumptious, succulent and downright savory, the meat you'll eat is the best ever! No human hands could conjure this immaculate feast, a feast fit for Kings, Queens and Lords. Make sure to eat up, a second chance might not come!


Dice. The ultimate arbiter of random chance, these are no ordinary dice. These dice were made from the bones of dragons. How will your fortune fare tonight against Lady Luck herself?


Lute. Not a single creature can stay still when this lute is played! It turns all listeners into dancers and it turns all adjacent high symbols into Wilds!