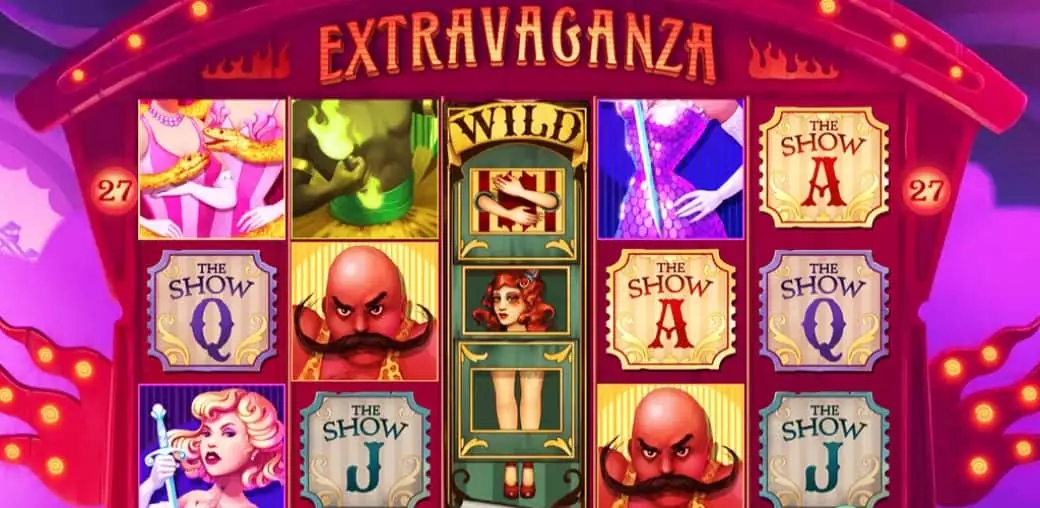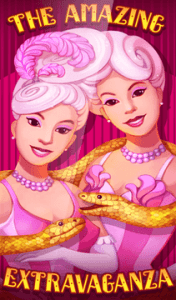 It's the freakiest freak show on Earth! It's sword swallowers and Siamese twins and fire breathers! It's muscle men and clowns and fortune tellers! It's a world of wonders such as you have never seen nor even imagined possible. Yes, it's Extravaganza free social slots, a spectacle of the bizarre that you won't want to miss, now at Gambino Social Slots Casino. The Extravaganza social slot machine has five reels with 27 paylines and some extravagantly great features. The Amazing Expanding Wild, whenever it appears, expands to cover the entire reel as it simultaneously transforms into one of three different side-show beauties performing a death defying circus stunt for your amusement. Amazing! The Scatter Clown will festoon you with balloons as he bestows upon you a gift of ten, fifteen, or even twenty Free Spins. Incredible! And the Cosmic Eye of Lady Fortuna, the seer who sees everything, triggers the fantastic Tarot Bonus Game that reveals your future even as it showers you with bonus G-Coins in this fantastic free casino vegas slots. So come take a walk on the extravagant side and play slots for free with Extravaganza slots at Gambino! What a show! What a show! What a show!
ICONS PAYTABLE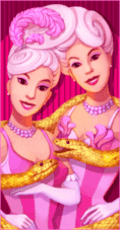 Melany and Mallory, the Siamese twins. Joined at the hip — both literally and figuratively — these two sisters are always smiling and laughing together, as if their individual thought processes were melded into one.

Arnold the strongman. Arnold is often described as a force of nature, a force that doesn't bother to ask for anyone's opinion. If you stay on his good side, there is no better friend in the world. But if you anger him, watch out!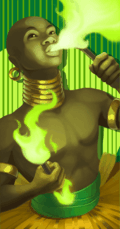 Inferno the fire breather. He has been inhaling and exhaling fire since he was a baby. You'd think his lungs would be scorched but he shows no ill effects and no signs of letting up. Come on, Inferno, light my fire!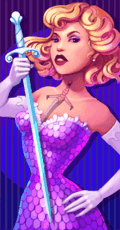 Sandra the sword swallower. Her act is barely palatable. Many cringe watching the show, but Sandra's appetite towards the cold steel weapons only grows larger. She is on a strict diet of daggers and razors to get ready for the next show.

Krono the magician. Empowered by his third eye, Krono is no stranger to the occult or to frightening his patrons. His magical abilities will leave you scratching your head and praying to whatever deity you believe in.

Scatter the Clown. You might detect a malevolent sneer behind that big grin of his but Scatter can do it all: he'll make you laugh, he'll make you cry, and he'll send shivers of fear up your spine.

The Eye of Madame Fortuna. She never sleeps, she never blinks, Madame Fortuna sees all — past, present, future — and with her Tarot cards she will read your fortune and reveal your hidden destiny.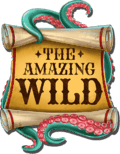 The Amazing Wild. This multi-chambered magic box of wonders expands to fill the entire reel with an extravagant circus beauty: the underwater lady, the knife attack survivor, or the lady in pieces. Octopus is included in all models.