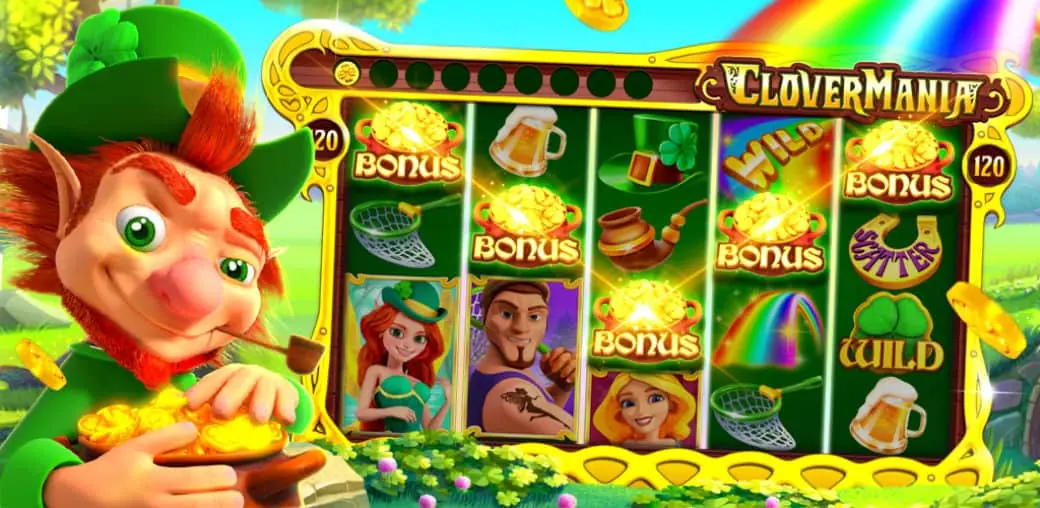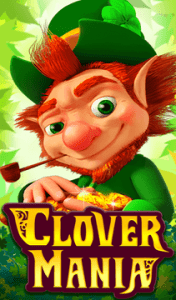 CloverMania is taking over the world! It started in Ireland one St. Patrick's Day and has now spread out and become a world-wide mania involving pints of ale, leprechauns and fairies, rainbows with pots of gold, four-leaf clovers, lustful lads, lovely lasses, a carefree state of mind, and all things Irish. There ain't no cure for CloverMania, but then again, no one's looking for one casino slots game.
The epicenter of the worldwide CloverMania pandemic is Gambino social slots casino, where enthusiasts from all over the world celebrate St. Patrick's Day—and every other day of the year as well—playing CloverMania social casino slots. These free slot machines have five reels and 120 paylines and animated images representing every aspect of Ireland and Irish culture and the Irish people. The green-suited redheaded leprechaun is your host and guide as you spin the reels, and the pipes and drums play traditional tunes to enhance the Irish atmosphere as you play slots for fun.
Special features of CloverMania free casino slots include the Four Leaf Clover wild symbol, the Lucky Horseshoe scatter symbol, the Gold Clover Coin jackpot symbol, and the Pot of Gold bonus symbol. No matter what your actual country of origin, come join the Irish! Come play CloverMania slot games for free! Down a cold pint of ale, spin the free slot machine reels and, before you know it, you'll be dancing a real Irish jig! Enjoy!
ICONS PAYTABLE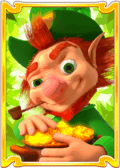 Declan the Leprechaun. Always with a big grin, always with his trusty pipe, Declan is your host, guide and mentor on your virtual trip to the Emerald Isle.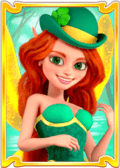 Gael the Fairy. Fairies have all the magic and all the charm of a leprechaun, but they are much much prettier. When Gael blows her fairy dust, the whole world lights up.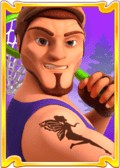 Aidan the love-sick woodsman. He has Gael's likeness tattooed on his bicep. He seeks her constantly with his fairy catcher. But can a human capture the heart of a fairy? In Ireland, they say love conquers all. We shall see.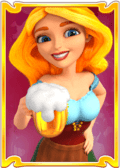 Caitlyn the Barmaid. If Ireland runs on beer, and the beer tap is run by Caitlyn, then Caitlyn must be running the country. If so, Ireland is in good hands. Cheers!


The Leprechaun's Hat. It not only looks snazzy, it is also the source of his magic powers.


The Rainbow. There is a pot of gold at the end and, with a few lucky spins of the social slot machine reels, it could be yours.


The Leprechaun's Pipe. We don't actually know what's in that pipe he's smoking, but we do know that it invariably puts a smile on his face and a spring in his step.


An ice cold, foamy headed, extra large mug of bubbly beer. It's the national beverage of Ireland. Bottoms up!


Fairy Catcher. Aidan's best weapon for capturing the affections of Gael the fairy. It's crude, but it could be effective.


Lucky Scatter Horseshoe. It brings good luck everywhere and free spins in the social casino.


Four-leaf clover. It sure is lucky to find a four-leaf clover: it will substitute for other symbols and create winning slot machine combinations.


Random Wild. When the Wild Rainbow is up in the sky, everyone knows it's a good day to be Irish! Up to four random symbols will turn into Random Wild symbols on each free spin!


Gold Clover Coin. Collect ten of them, and you win the CloverMania Jackpot.


The Pot of Gold triggers the Rainbow Bonus Game where you can pick your own pot of gold and win thousands of Bonus G-Coins.