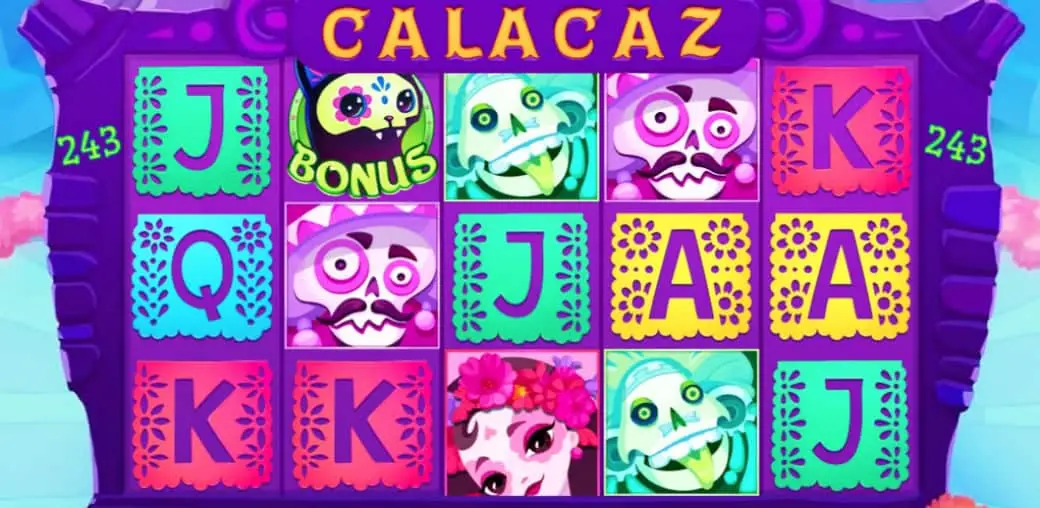 It's the Santa Muerte – the day, when the dead dance and the world of the living touches the Underworld. Young luchadore Santiago tries to impress his beloved Isabella, but to do this, he must complete an almost impossible quest – steal the priceless heart-shaped diamond from the queen of Underworld and escape with it before the night is out. Help the heroic luchadore fight for his love in this 243-way machine, dance to the music of the Calacaz (the skeleton) band and celebrate the most exotic holiday in the world!
The most heroic luchador of all México. He has completed hundreds of trials and fought with many enemies to win the heart of Isabella! Now the final test awaits him… The gates of Underworld are open and only courage and love can save Santiago now!
Even the underworld needs a tour-guide and that's exactly what Samuel is here for! Samuel the skeleton will lead Santiago to the prize he seeks but only for a price…
Isabella is Santiago's love and the most beautiful women in all of Mexico. She learnt about the magical heart-shaped diamond of the Underworld in a legend and told Santiago about it. The very next Day of the Dead he set off into the Underworld to impress Isabella. If only she had known, she would've never told him about the diamond! Now she can only pray, that her loved one returns to her.
Diego guards the heart-shaped diamond from anyone brave or stupid enough to try to steal it. He loves his job, but he loves sleep even more. Will Diego doze off on a day like this, or will Santiago have to beat him to get the treasure?
The ruler of the Underworld and the goddess of death. She doesn't take kindly to thieves, but maybe her heart sway after learning about Santiago's love for Isabella? After all – love is as eternal as death itself!
No celebration is complete without music, especially on the day of Day of the Dead! Today music is heard even in the Underworld. The Mega Wild Band substitutes any symbols except Bonus and Scatter.
The fabulous treasure of the underworld. It's rumored that this gem is the very heart of The White Lady, powerful enough to bring love into the coldest and cruelest of hearts. If you are lucky enough to get it, you could get up to 20 Free Spins!
Rum the cat is The White lady's favorite pet. He loves meeting new people, especially living ones. He will give you a chance to play the Bonus Game if you find 3 of his symbols on the reels.